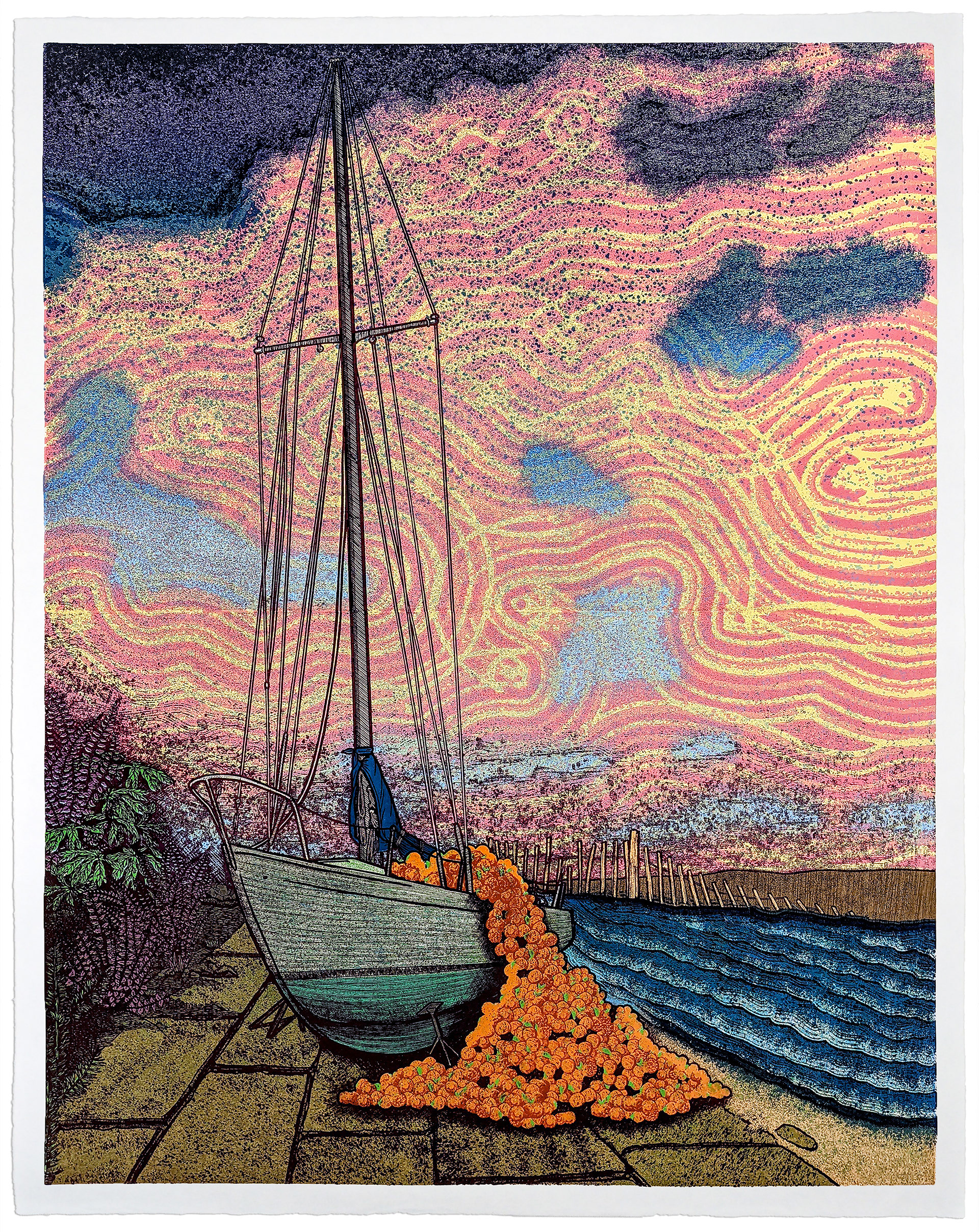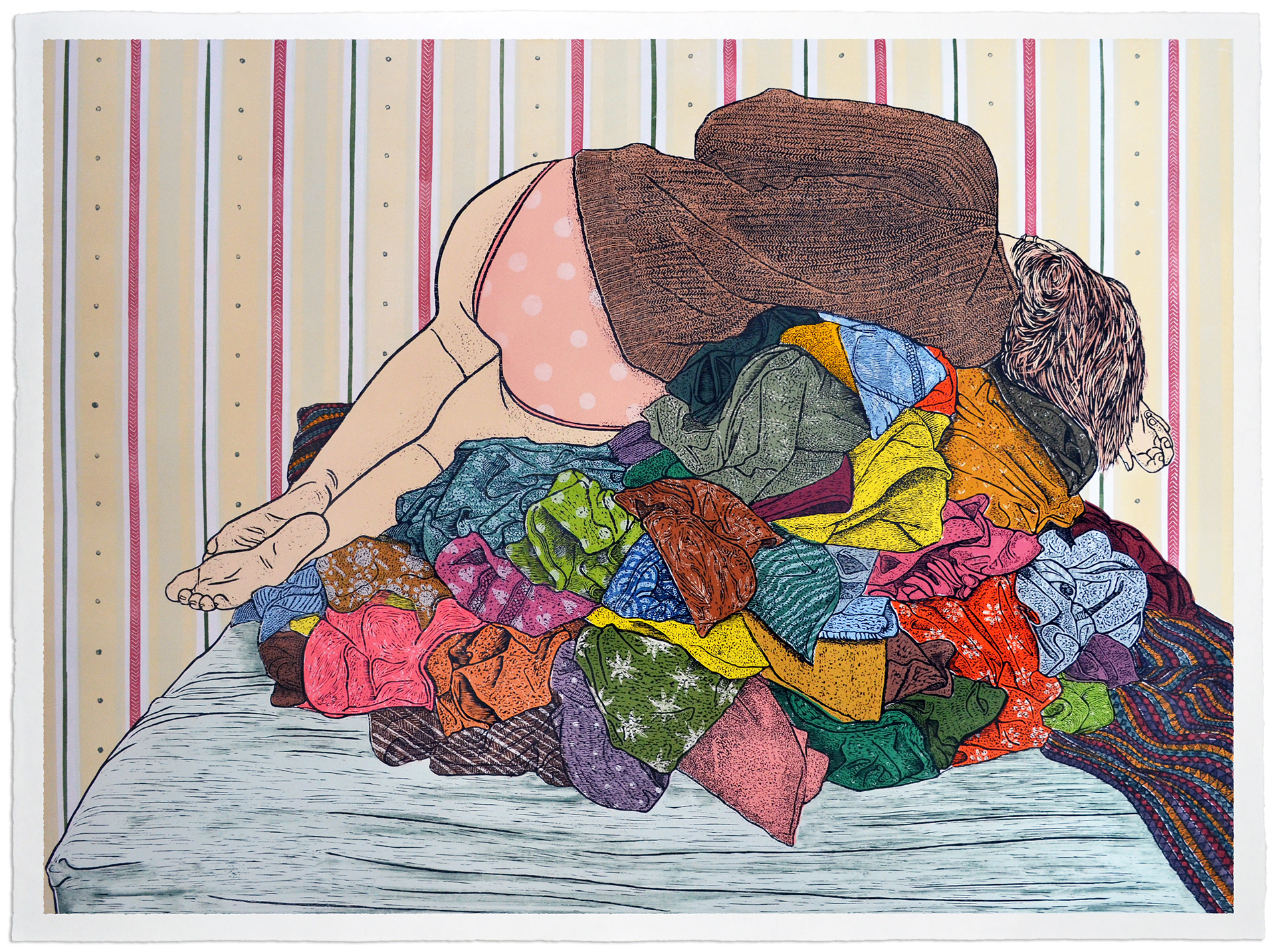 Top left: "A promise made to Reason," Woodcut on Kozo from 5 plates & 17 colors. 36x48in (91x122cm). 2021.
Top right: Installation at

Horizons

solo exhibition, Buckham Fine Arts Gallery, Flint, MI. 2021.
Bottom left: "I know less now than I knew then.," Woodcut on Kozo from 4 plates & 12 colors. 36x48in (91x122cm). 2021.
Bottom righ

t: 

"I know there's something I've forgotten.," Woodcut and monotype on masa. 36x48in (91x122cm). 2021.
My current thematic interests are concerned with the complex human relationship with labor and aspirations.

Dreams beyond Reason

(tentative title), is a conceptual exploration and body of work in printmedia that centers around themes of home, domesticity, labor, and dreams, realized and not. The works are visually tethered by representational imagery that combines portraiture with comfort objects in excess, situated within imaginary landscapes or domestic spaces. These "comfort objects" are the conceptual centerpiece of this body of work, having certain underlying characteristics that are gentle and unassuming, sometimes nurturing, but certainly non-threatening.
To speak to the contradictory feelings that can accompany home, as a space of comfort and confinement; labor, as a motivator and distraction; dreams and aspirations, as both fulfilling and disappointing experiences; I am depicting these objects in odd context, exaggerated perspective, and in excessive quantity to flip the narrative and suggest the potential threatening and opposing nature of these objects. In part, this body of work is inspired by the contemporary shift in conversations around labor value and from in-depth research into my extended family's occupational history with a focus on the role labor played in my ancestors associated aspirations and life ambitions. These ambitions led much of my family to immigrate to and migrate across the Americas; some coming from Germany to Michigan to work on the General Motors automotive assembly lines, others establishing farmland in Florida to grow oranges for marmalade, to give just a few examples. 
While these occupations are recorded in genealogical records, the aspirations of these individuals are not – rather, these are the stories that are passed down generationally and are told to express the essence of a person's life. Within these orally documented spaces, I am connecting these consanguineous aspirations with my own and, through image making I'm imagining stories that express the fleeting nature of time and the common human condition of longing.
Interview with Buckham Fine Arts Gallery director Michele Leclaire for Horizons solo exhibition, Dec 2021 - Jan 2022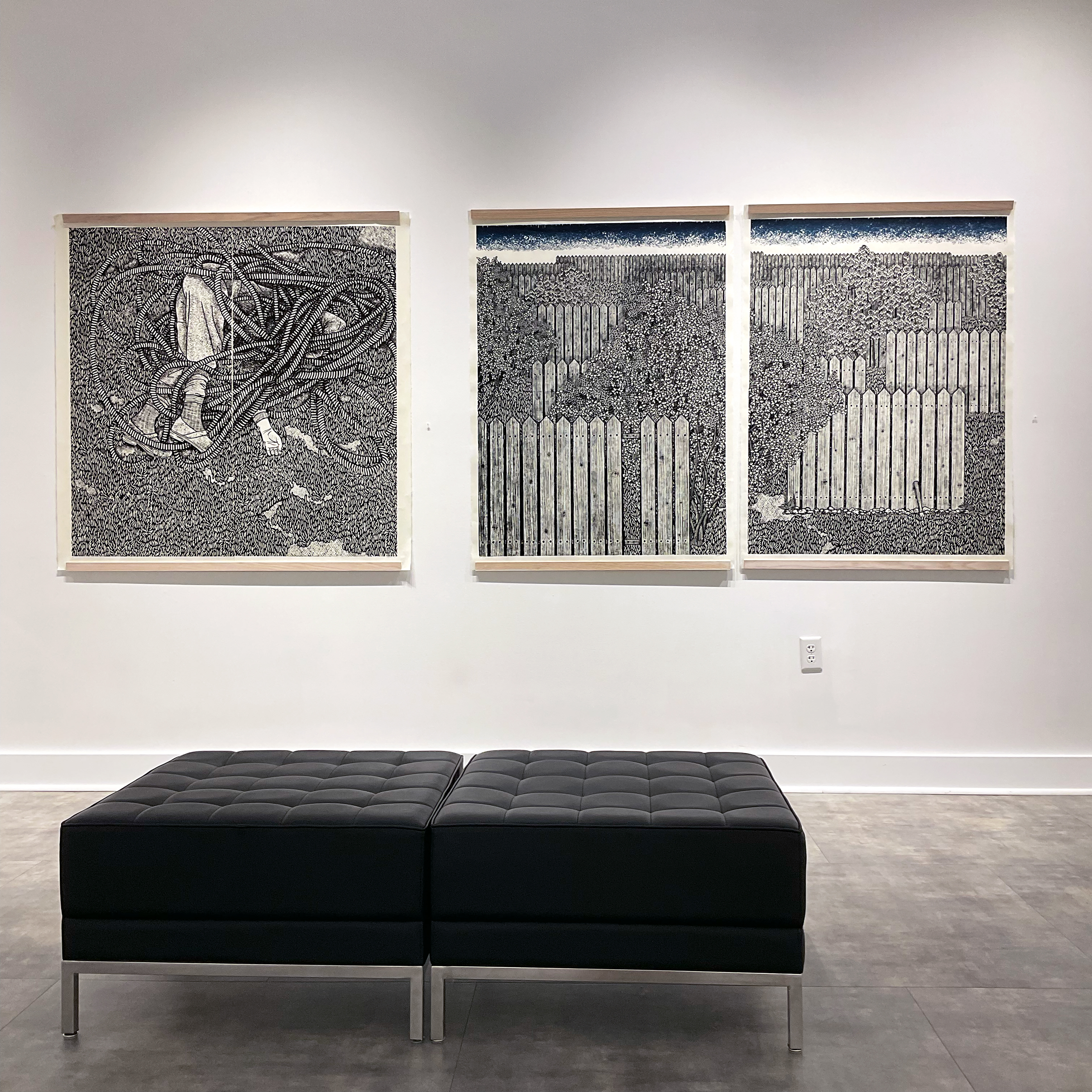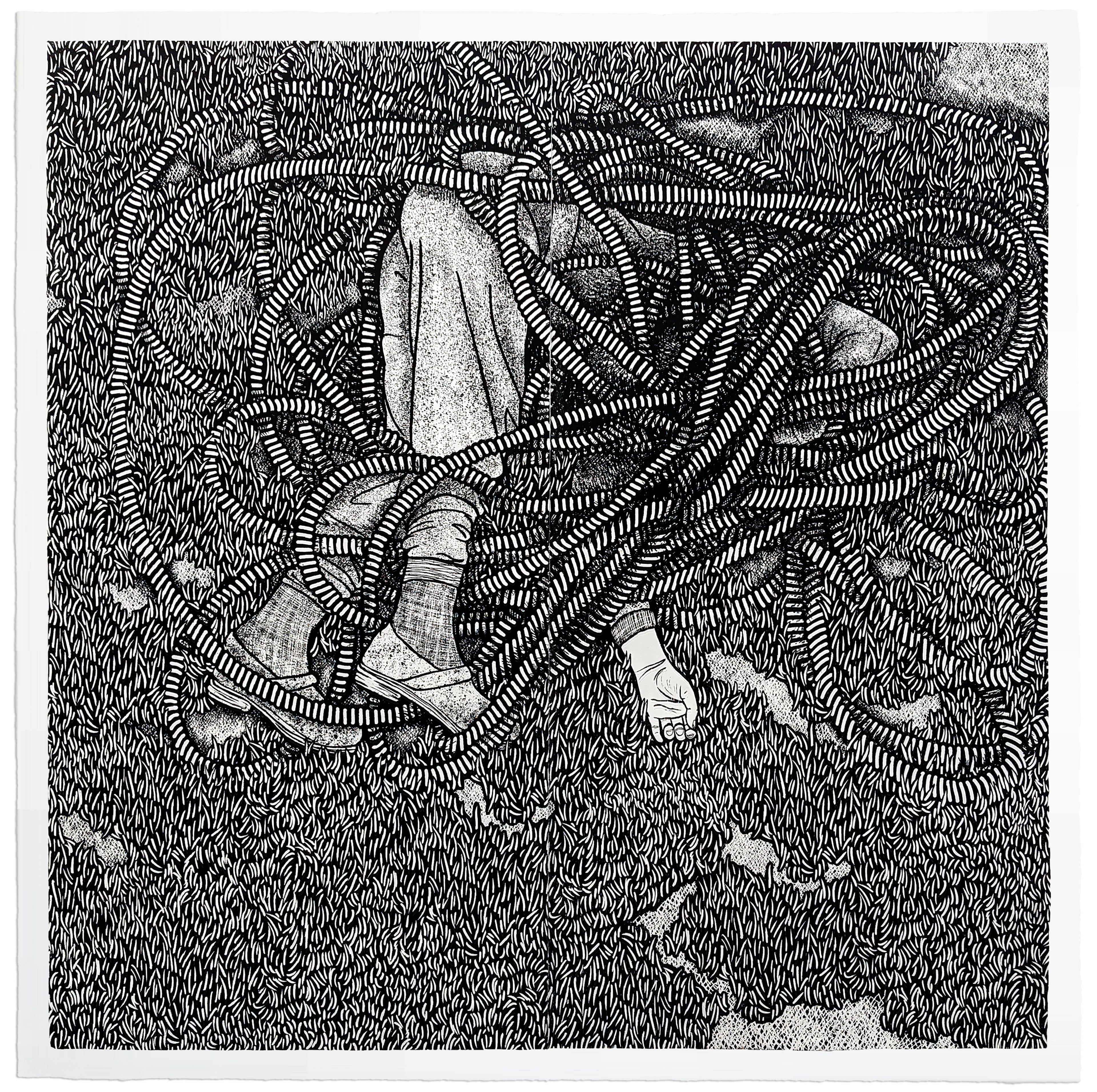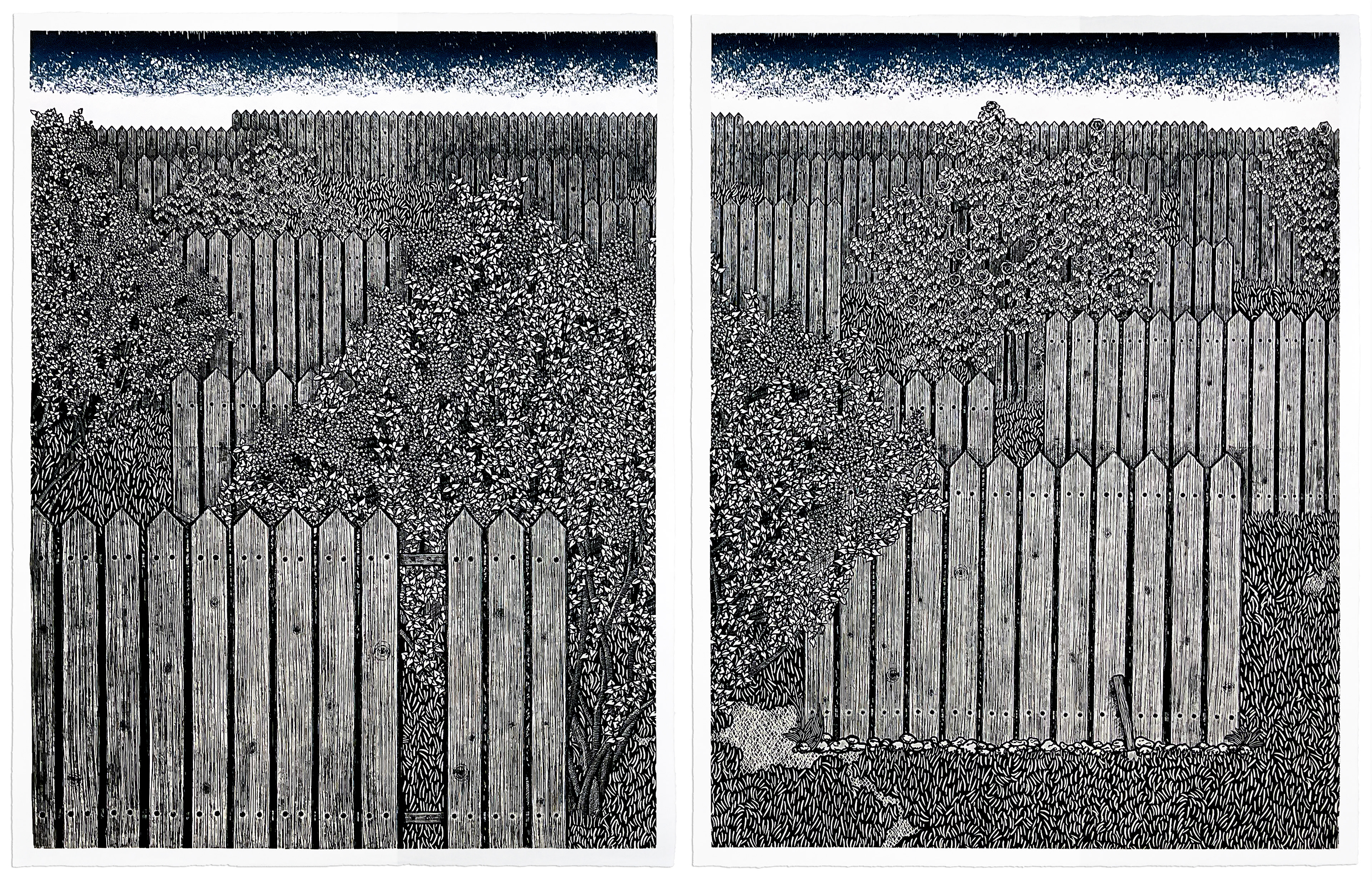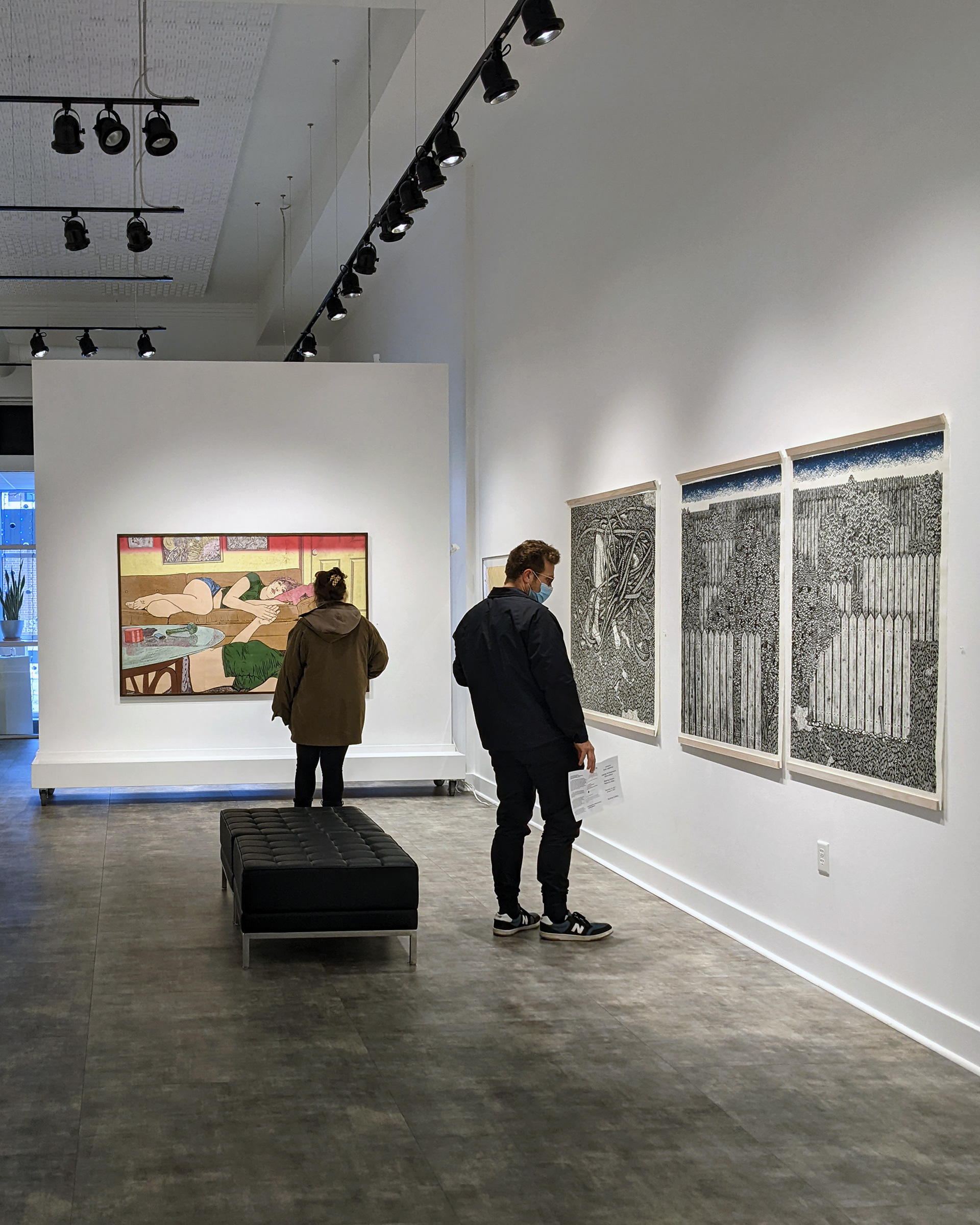 Top left: Installation at

Horizons

solo exhibition, Buckham Fine Arts Gallery, Flint, MI. 2021.
Top right: "I will nestle myself within your hunger for the ground.," Woodcut on Thai Kozo. 48x48in (122x122cm). 2021.
Bottom: "I'll journey through by the strength of my father's laughter.," Woodcut on Kozo. 48x72in (122x183cm). 2021.
First installation of works from
Dreams beyond Reason
 :
Horizons
, a solo exhibition,
opened at Buckham Gallery, Flint, Michigan, USA on December 10, 2021
Horizons
 features two bodies of work in tandem:
You can see it on the horizon now
, a series of double self-portraits dealing with self-compassionate and self-destructive behaviors; and
Dreams beyond Reason
, my MFA thesis in development, which addresses contradictory and complex feelings associated with home, labor, and aspirations.